North Queensland is unique. The region is home to some of the world's most unique freshwater and marine environments, including the World Heritage Daintree River, the Great Barrier Reef, and Hervey Bay's whale nurseries.
Its unique climate can prove challenging for water quality managers when considering the area's tropical cyclones, droughts, monsoonal storms, and seasonal dry, hot and humid conditions in Water Sensitive Urban Design (WSUD) basins.
These climate conditions can present issues during the hydraulic design of water retention basins. Drought and waterlogging can also impact plant survival.
Where can you find local information?
Water by Design has developed several resources that are relevant across Queensland that are designed to assist WSUD designers and stormwater engineers.
Bioretention Technical Design Guideline  – In North Queensland, saturated zones within the base of the bioretention basin can help prolong vegetation during the hot and dry periods.
Wetland Technical Design Guideline  – Water quality managers in North Queensland need to take weed control into consideration. In the dry tropics, preserving plants over the dry winter months with possible supplemental irrigation may need to be considered.
MUSIC Modelling Guideline – Whitsunday Shire Council commissioned specific runoff parameters to use for water quality modelling. These are available in the appendix of the Model for Urban Stormwater Improvement Conceptualisation (MUSIC) Guidelines. Check with your local council for any locally recommended parameters.
WSUD Plant database  – Choosing local endemic species will increase the chances of plant survival in water quality treatment basins. Water by Design has provided plant lists for major climate zones across the state.
Water Wise Street Tree (WWST) Sizing Guide – The Water Wise Street Trees (WWST) sizing guide provides optimal catchment sizes for various climate zones across Queensland.
Driving best practice in North Queensland – Reef Urban Stormwater Management Group (RUSMG)
RUSMG was formed in 2009 to support the uptake of sustainable urban water management practices to help reduce the impact that runoff from urban areas has on water quality in the Great Barrier Reef.
The vision of RUSMG is to provide world's best sustainable urban water management to maintain the global values of the Great Barrier Reef.
RUSMG membership includes local governments, Local Government Association Queensland (LGAQ), Great Barrier Reef Marine Park Authority (GBRMPA) and the Department of Environment and Science (DES).
RUSMG provides strategic oversight and advice regarding the direction of the Water by Design program. This includes activities that support RUSMG outcomes such as research, developing professional capacity, improving organisational systems and supporting uptake and application of practices through workshops, field days, and the development of resources such as guidelines and tools.
Recent Water by Design activity in North Queensland:
The Water by Design team regularly visits local councils in North Queensland, facilitating seminars and training days. Recent activity includes:
RUSMG – Community of Practice Meetings
Local government area (LGA) embedding
Emerging technology training, and
CoDesign workshops in Yeppoon, Innisfail, Mackay, Townsville, Gladstone, and Rockhampton.
Please refer to our events page or follow us on LinkedIn to keep up to date with upcoming events.
If you are interested in arranging group training sessions, please get in touch with the team at info@hlw.org.au.
Exemplar projects along the coast:
Waterway managers in North Queensland have undertaken many exemplar projects demonstrating innovation and ingenuity. Here are a few locally relevant case studies:
Wet Tropics – Cairns
Dry Tropics – Townsville
Central Queensland – Rockhampton
Central Queensland – Mackay
Please get in touch with the team at info@hlw.org.au if you wish to supply a local case study.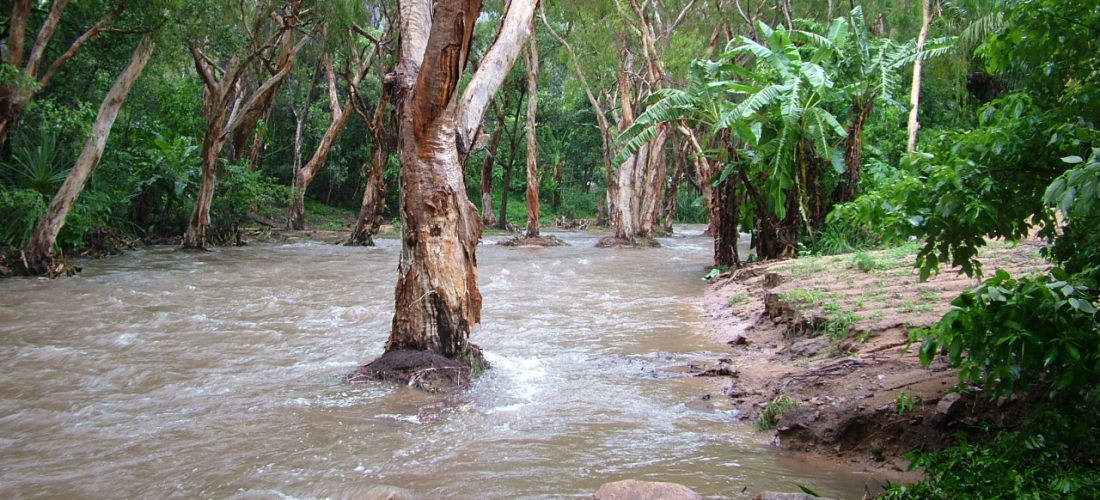 Gustav Creek, Magnetic Island
Further information from our partner organisations:
Terrain  |  Creek to Coral  |  Reef Catchments  |  FBA  |  GBRMPA
Funding
The Reef Urban Stormwater and Erosion and Sediment Control Capacity Building program is funded through the Queensland Government's Investing in Our Environment for the Future Program and delivered by the Department of Environment and Science (DES)