Project summary
Small Creek was once a meandering stream that flowed into Deebing Creek. Today, it's a straight concrete channel in Raceview that offers very little value to the community or environment; but that is changing. Ipswich City Council is restoring Small Creek.
Small Creek was identified as a potential creek rehabilitation site while Council searched the city for sites to deliver offsite stormwater solutions. In 2016 Council commissioned a joint landscape architecture and engineering team to work with the local community, using a co-design process, to develop a concept for rehabilitating Small Creek. As of August 2017, Council has received tenders to complete the first phase of construction.
Project scale and objectives
The Small Creek project involves rehabilitating a 1.6km stretch of creek to provide cleaner water, wildlife habitat, better paths and bikeways, education opportunities and access to nature for play and enjoyment.
The co-design process employed to develop the concept design involved a week long, Design Your Creek Week. Unlike traditional consultation processes, which typically see a concept developed in isolation, then circulated to the community for feedback, the co-design processes allowed the project team to work with the community on-site, in real time, to develop concepts, without first putting pen to paper. Doing so allowed the community to meaningfully participate on the design process, and guide an outcome that they desire.
Design Your Creek Week ran from one Friday, to the following Wednesday. The project team set up onsite at Small Creek and over the course of the week ran workshops with residents, school children, Council officers, maintenance crews and Councillors, provided expert talks on creek naturalisation, established a scale model creek to demonstrate creek geomorphology and much more. The project team met with the community, and learnt about their experiences and desires for Small Creek. In the background, as concepts began to take form, flood modelling was completed. On the final day, a large sheet of paper was rolled out onto a table, and the first formal concept drawn up.
In total, over 180 people participated in Design Your Creek Week.
Site context
The concrete drain once known as Small Creek rises adjacent to Raceview St, in Raceview. It flows west under Whitehill Rd and Warwick Rd prior to entering Deebing Creek, the Bremer River and ultimately Moreton Bay. The 1.6km section from Whitehill Rd to Warwick Rd is the subject of Council's efforts to rehabilitate the creek.
Like most waterways, it was once surrounded by large iconic tree species such as the Queensland blue gum, with an understorey of native grasses and rushes. In the early days following European colonisation of the area, the waterway was cleared and grazing introduced, instigating a period of ongoing decline. This led to the creek being replaced in the early eighties with the concrete drain that we see today. The few trees that still exist are remnants of the original landscape along the creek that once upon a time would have had their roots in or close to the water.
Issues and constraints
The co-design process identified flooding and maintenance as two important topics for stakeholders. By working with stakeholders to develop the initial concept, the co-design process created opportunities to address concerns about both flooding and maintenance in the concept design. It also allowed the project team to respectfully and meaningfully challenge existing perception as to the role of drainage, and present the idea that good drainage can look like a creek rather than concrete, and deliver multiple benefits. Ultimately, it was critical to ensure that the final product would be practical and affordable to maintain, and would not increase flooding.
An additional constraint came in the form of previous attempts at creek naturalisation in the local area. Several years prior to the Small Creek concept design, an unrelated, and poorly designed and delivered attempt had been made at creek naturalisation at a nearby site. That site was subsequently converted into a concrete channel. The project team identified the importance of distinguishing between previous attempts at creek naturalisation and the intent for Small Creek. The co-design process assisted with this.
Construction and ongoing costs
The on-ground works to rehabilitate Small Creek are not yet completed, and hence costs are not known. The co-design process was completed for the same cost and in the same amount of time as a more traditional concept design and community consultation process.
Monitoring
As construction is yet to commence, no monitoring has been completed, however an ongoing monitoring program is planned. It is anticipated that this monitoring program will involve partnerships with local schools, to engage students through their science program, and a university.
Lessons learned
The co-design process employed at Small Creek delivered a well-received concept design, and provided three key lessons:
While a co-design process may, appear to be more work than a traditional concept design process, the concept design for Small Creek was delivered at no additional cost.
Actively engaging with the community up front unearthed information that, as one project team member said, "could not have been discovered in 10years of searching on Google and in the library"
Design Your Creek Week allowed the project team to discuss, with residents, maintenance crews and school children, what might be possible for the site, without first laying a design on the table. In doing so, those people could genuinely shape the final design.
Progress Update – Stage 3
Ipswich City Council have now progressed to Stage 3 of the project. Images courtesy of ICC and CUSP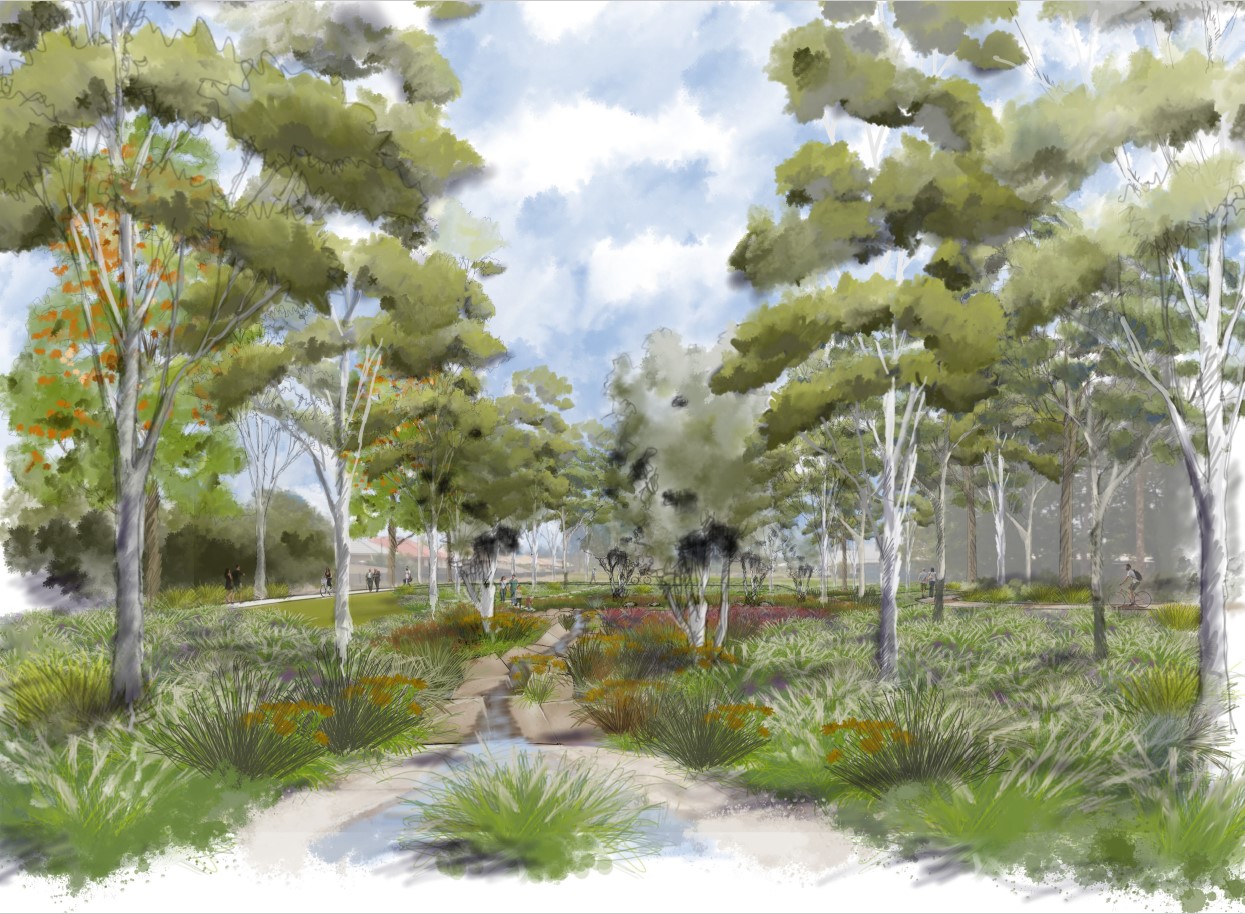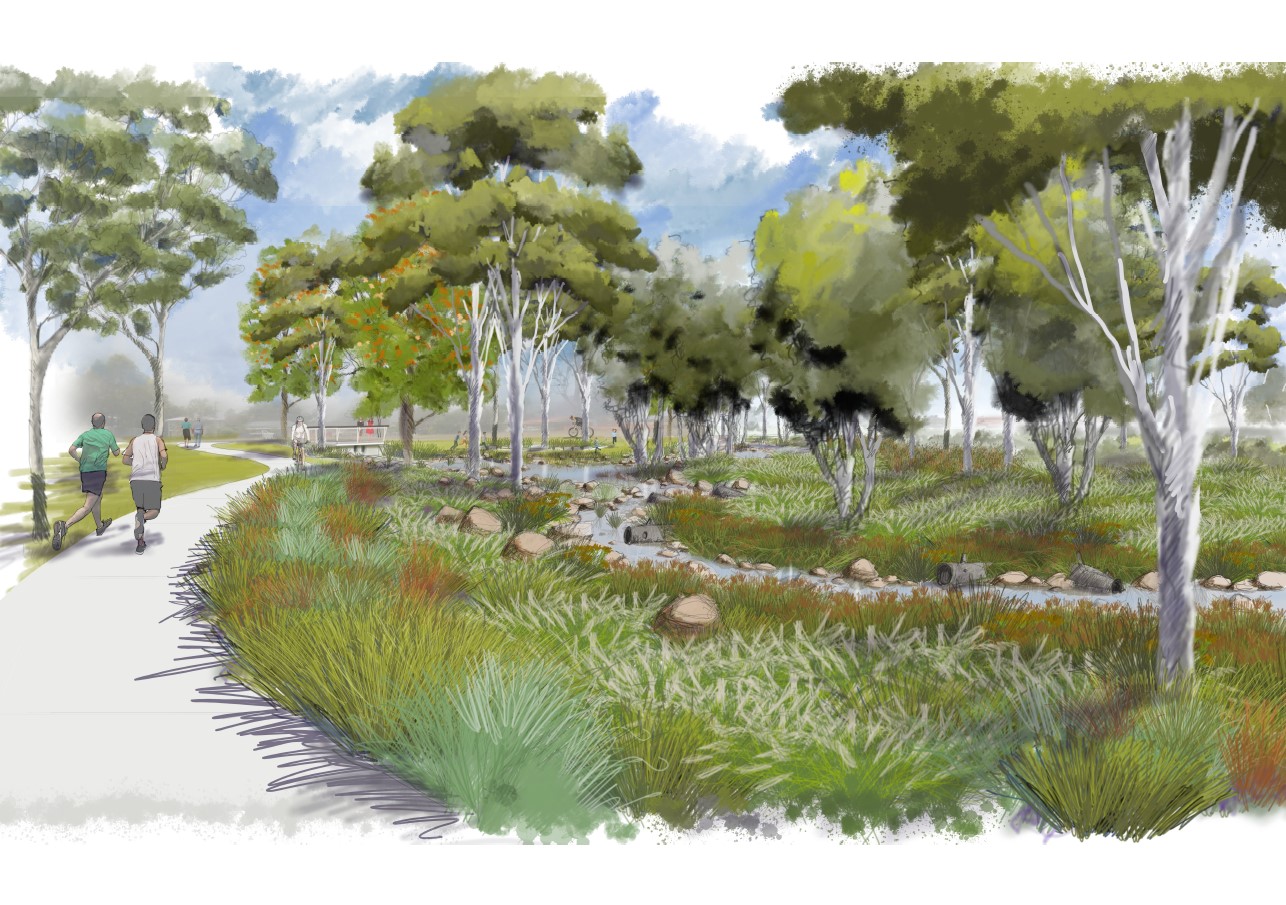 Reference
Conversation with Ben Walker, Ipswich City Council
Conversation with Amalie Wright, Landscapology
Conversation with Alan Hoban, Bligh Tanner
Living Waterways Scorecard
Please follow link for the Living Waterways Scorecard for this project