Project Summary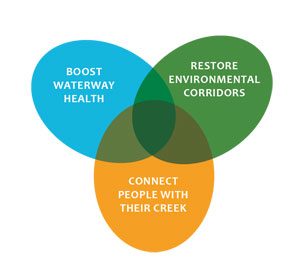 Community concerns led to Logan City Council commissioning the Slacks Creek Catchment Futures Study in 2012, which outlined a long-term approach to catchment recovery that is built around community partnerships. The Slacks Creek Catchment Recovery Project was a pilot initiative founded on strong community partnerships and guided by an 'activate, beautify and clean' (A.B.C) approach to improve waterway health and return valuable community space. The project included community tree plantings, cleanup activities, art installations and environmental enhancement. Council's Project won the title of Best Government Project and was a finalist in the Urban Renewal Award Category at the 2014 Healthy Waterways Awards.
Project scale and objectives
The project comprises six sites, with the aim at each site to restore a section of Slacks Creek to increase habitat for wildlife, improve habitat quality and reconnect areas of riparian vegetation. The works aim to improve water quality, bank stability and pollutant mitigation while increasing the knowledge and engagement of the community to better conserve, manage and protect natural resources.
The project will deliver improvements in riparian function, reduce pollutant runoff, improve habitat values and connectivity and improve recreational opportunities. Key to the success of the A.B.C approach is the focus on achieving a clean, healthy creek which supports and is supported by active and vibrant open spaces. The project will run from 2014 to 2018 and will involve a number of community events and activities.
Site Context
Slacks Creek flows through the heart of Logan City and has suffered significantly from changes in catchment land use. Development has urbanised the catchment including reshaping some of the smaller tributaries. Slacks Creek is under pressure from erosion and pollution from unfiltered stormwater urban areas. The creek and catchment still supports large wildlife areas and possesses enduring ecological and community values.
Issues and Constraints
Over the past 50 years the catchment has changed from forested landscapes to urban uses and the impacts this change brings has significantly compromised the creek's ability to support biodiversity as well as recreational and social amenity values. The extent and types of rehabilitation works are constrained by available space and access. Rehabilitation measures must look beyond restoring the original creek to accommodate past alterations to creeks and increased rates of runoff as a result of urbanisation.
Key Practices
This project forms part of the broader Logan Rivers and Wetlands Recovery Program, which sets out the direction for the recovery of Logan's rivers, streams and wetlands with collaboration and community stewardship at its centre. The longer-term aim is to increase ownership and the capacity of the community to participate in the long term stewardship of local rivers and wetlands.
Since 2013, the project has been revitalising the catchment through community led initiatives, public artwork, recreational activities and environmental enhancement at several priority locations throughout the catchment. Community involvement in weed removal, tree planting and other clean-up activities has provided an efficient use of resources for labour intensive tasks while enhancing community engagement and education.
Construction and ongoing costs
The Slacks Creek Recovery Project has driven an increase in Council investment and significant funding from both the State and Federal governments. Ongoing maintenance will be required, however a key aspect of the recovery project is to enhance resilience through the establishment of vegetation to reinstate the riparian zone and thus minimise the cost and requirement of future maintenance.
Monitoring
Visual inspections are undertaken as part of regular maintenance operations; however there is no regular monitoring program in place.
Lessons learned
The project's collaborative approach to urban creek renewal has led to increased funding and generated widespread community support. Creating places for people and nature allows for multiple benefits to be achieved, drives investment from multiple sources and encourages stewardship from residents, businesses and the broader community.
A cleaner creek improves ecological conditions and more active parklands create a sense of place for everyone to enjoy. Coupled with opportunities for residents and businesses to be an active part of the recovery process, the collaborative approach drives improved stewardship leading to reduced pollution, healthier creeks and a healthier community.
Reference: All material supplied by Logan City Council (and their website, www.logan.qld.gov.au).