Project Summary
This project involved constructing a fishway on Moores Creek, Rockhampton, to expand the territory available for 29 species of juvenile fish. The area of Moores Creek and its tributaries affected by the fishway provides a nursery habitat for juvenile fish.
The Department of Agriculture, Fisheries and Forestry (DAFF) and the Fitzroy Basin Association (FBA) worked collaboratively along with the local council (Rockhampton Regional Council) to undertake the project. The selection of Moores Creek was based on identification in a prioritisation report carried out for the entire FBA area.
Project scale and objectives
Installation of the Moores Creek fish ladder involved the construction of a series of 16 rock ridges set into concrete at regular intervals, over a distance of 30 m.
Installation of the Moores Creek fish ladder has opened up 1.52 km of fish habitat and provides many benefits:
The successful migration of diadromous fish species in high priority aquatic habitats
Allowing juvenile fish species to migrate to upstream nursery habitats so they can successfully complete their life cycle and maintain healthy fish populations
Maintenance and enhancement of fish communities and overall aquatic eco-system health
The migration of adults to access habitats for feeding and reproduction purposes
Raising public awareness of the detrimental effects barriers have on fish populations and the biological, social and economic benefits of improving fish passage through the construction of fishways
Site Context
Road culverts under Moores Creek created a barrier to many fish, especially juveniles, due to the high velocity water passing through the pipes. Moores Creek commences in Archer National Park and is one of the most intact tributaries to the lower reaches of the Fitzroy River, which provides one of the largest estuary systems in Australia and is known to contain many different species of fish.
Issues and Constraints
The purpose of the fishway is to allow juvenile fish to migrate to the freshwater upstream where they have a better chance of surviving as there is less chance of predation by larger fish. Providing fish access to the freshwater wetlands upstream is necessary for some of the species to complete their life cycles.
Installation of the fish ladder provides variations in flow conditions which enable the fish to migrate upstream beyond the pipes. The design needs to strike a balance between providing pools suitable for fish to rest and avoiding backing up flows which may affect the crossing and culvert performance and impact on established vegetation. Design and installation were also planned to avoid disrupting traffic flow.
Key Practices
The Moores Creek fishway is a highly efficient structure. By retrofitting a structure to existing culverts the project was able to improve fish passage at low cost and with minimal interruption to vehicle traffic. The simple rock ridge structure has been designed to minimise the trapping of debris and sediment while providing conditions suitable to a wide range of fish species. Use of readily available materials will also make maintenance works quick and cost effective. The community has been kept informed of the project through media releases and a stakeholder tour.
Construction and ongoing costs
Design costs were kept low at around $8,000 with materials costs approximately $29,000. Monitoring has been undertaken in-kind at a cost of $5,000.
Rockhampton Regional Council owns the structure and maintain its operation through removal of sediment and debris following flow events or as otherwise required. The structure is considered solid and has survived some of the most significant flow events in Moores Creek's recorded history.
Monitoring
FBA and Fisheries Queensland staff undertook fish sampling in early 2013 following construction in July 2012. Results from the sampling serve as a baseline for what species, sizes and numbers were able to use the fish ladder. The recording of Sea mullet as small as 24mm using the fish ladder is excellent as this suggests larger fish will also utilise the structure. The amount and size of fish that reached the top of the fish ladder indicates the velocity of water has been reduced and the fish are able migrate as intended. It is anticipated that additional species will be found during other times of the year as different species have different migratory patterns.
Lessons learned
Careful considerations of the objectives and potential impacts of the project play a key role in successful design and implementation. A simple and low cost solution can be very effective with good planning and construction technique. Keeping the community informed has garnered support from a range of stakeholders.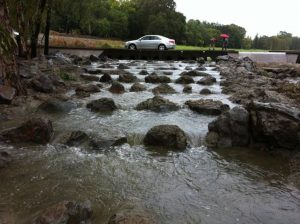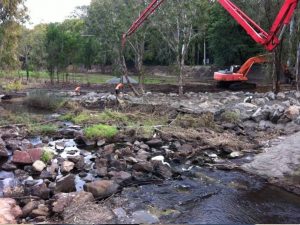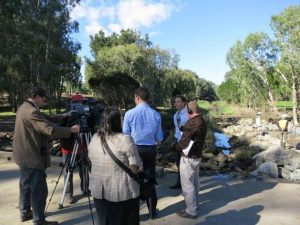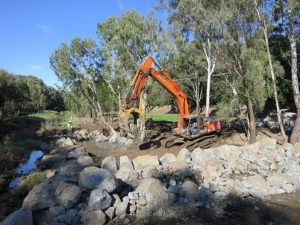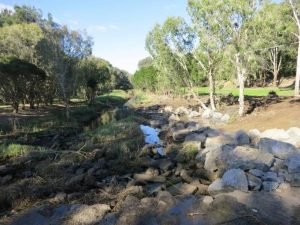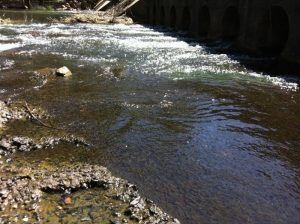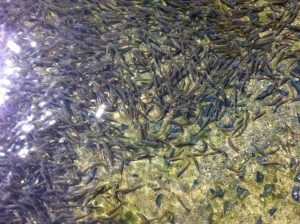 Reference: All material supplied by Fitzroy Basin Association (and their website, www.fba.org.au).