Project Summary
In 2004 the City of Gold Coast carried out a Catchment Study for Currumbin Creek that examined the extent of catchment modification with a focus on geomorphic, riparian and aquatic ecological condition. A subsequent rehabilitation plan was developed in 2006 for the lower freshwater section of creek, identified as a high priority due to unstable streambed and banks and poor riparian vegetation. Recommended works include bank stabilisation, in-stream structures and a high flow bypass structure along with revegetation of the riparian zone Implementation of the plan is being undertaken in stages, with the highest priority works completed in 2008 and 2010.
Project scale and objectives
The study area consisted of a 2.4 km stretch of Currumbin Creek's lower freshwater reach, which was divided into five reaches based on geomorphic classification. Three of these reaches were identified as requiring rehabilitation. To better manage rehabilitation more detailed assessments were undertaken to identify stream segments and prioritise implementation of works (figure 1).
Figure 1 Area covered for rehabilitation plan and associated stream reaches and strategic stream management segments
This project is based on environmental and community objectives:
Protect land and assets through actively involving stakeholders in the planning process and incorporating their land use requirements into the plan
Restore riparian corridor connectivity
Improve ecological health and geomorphic stability of the lower freshwater reaches of Currumbin Creek
Implement rehabilitation works in a way that will not create any adverse effects on flooding
Site Context
The lower freshwater system is approximately 5 km in length, separated from the estuary by a tidal barrage. Its meandering reaches having been extensively developed for rural and residential use with urbanisation denser along the elevated northern ridges than the flood plain. Many stream banks have experience undercutting and are vulnerable to erosion as a result of the clearing of riparian vegetation and historical sand and gravel extraction, which has substantially modified the channel alignment.
Issues and Constraints
During the construction phase of the project, a Social Impact Study was carried out to address the impacts of these works on nearby residents. Overall, the community had a positive response to the works and its long term objectives. The main concerns involved restricted access to the creek and high levels of noise and dust pollution.
Key Practices
The restoration works combine a range of in-stream hard (rock) and soft engineering structures (large wood) that aim to improve the ecological health, geomorphic stability and riparian connectivity of Currumbin Creek. This project showcases a broader Council objective to limit the use of conventional rock armouring of creek banks, which provides limited habitat value and in some instances may initiate other problems.
Rehabilitation works to date have included battering of banks, revegetation with native species (figure 2) and the construction of rock vortex weirs, flow deflectors and log/rock groynes to provide benefits such as grade control, bank protection and the creation of habitat structure.
Construction and ongoing costs
Construction costs for the works completed to date were approximately $900, 000 over 3 years. Biocondition monitoring surveys to be undertaken at 5 yearly intervals will be approximately $30, 000 per survey. Restoration and other maintenance costs are approximately $50,000 over 5 years. Assistance in revegetation planting and weed management was provided by a separate Council department.
Monitoring
A baseline ecological assessment was undertaken at four sampling sites in 2008, prior to rehabilitation works, to assess water quality and record instream flora and fauna assemblages. Photo points were also established at each site and the monitoring repeated in 2009 after completion of in-stream works, and again in 2013.
The 2013 assessment showed that aquatic habitat condition was good to excellent at all sites, with slightly better condition within the rehabilitation area than upstream and downstream. A greater diversity of aquatic plants, macro-invertebrates and fish was recorded in the 2013 assessment than the two assessments that were conducted immediately before and after the rehabilitation works.
Lessons learned
The importance of working collaboratively with all stakeholders throughout every stage of the project was fundamental in achieving a positive outcome and allowing for future management and maintenance of the area. This type of rehabilitation assessment was identified as an important resource for CoGC to construct future in-stream works for Currumbin Creek with increased clarity and understanding from an environmental, economic and social aspect. It can also be used as a template for the rehabilitation of other waterways within Gold Coast's LGA and surrounding LGAs that have similar stream systems and stream impacts.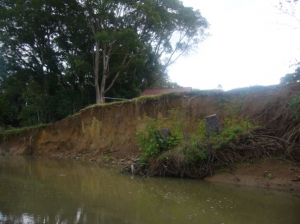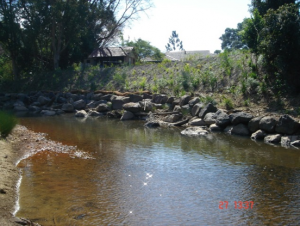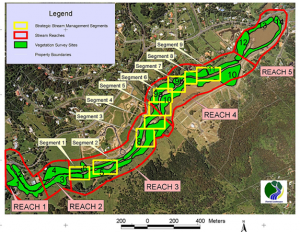 Reference: All material supplied by City of Gold Coast.